Açıklama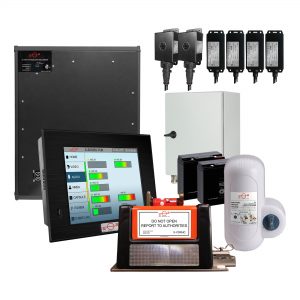 VOYAGE DATA RECORDER WITH 4X VIDEO CAPTURE CARDS, FIXED AND FLOAT FREE CAPSULE
AMI'S NEW SERIES VOYAGE DATA RECORDERS – X-VDR –  HAVE BEEN DEVELOPED BY ENGINEERS WITH OVER 20 YEARS OF EXPERIENCE IN MARINE ELECTRONIC DESIGN.
The result is a first class, simple to use system, designed and manufactured in the UK. The X-VDR is a full VDR system that not only meets IMO regulations, but also offers more flexibility, functionality and features to the operator than any other system supplied to the commercial marine industry.
8.4″ High resolution colour touch screen display
20x NMEA data input ports
10x Audio input channels
4x Radar image capture card (expandable up to 4x capture cards)
2x Ethernet ports for image over IEC 61162-450 (expandable on request)
Ethernet interface located in the Wheelhouse for simple data download
Fixed and Float Free Capsule holding 48 hours of sequential data
Real-time backup of Long Term Recording Medium (LTRM), to ensure no loss of recorded data
All configuration files backed up to LTRM, Float Free and Fixed Capsules, for fast and effective service calls
Continuously automatic health monitor  to raise an alert in the case of any event. A full manual health check can be activated on demand
Simplicity is key to the AMI X-VDR, with a single cable required between the main unit and any required interfaces; with the ability to daisy chain multiple interfaces to further reduce installation costs. .
High quality, reliable hardware and software
Purpose built to exceed the revised 2014 VDR regulations
Full Type Approved to MSC.333(90), IEC61996-1 Ed 2.0 and IEC 61992-2 standards
2 Year warranty as standard, with optional, affordable extended warranty offered on request
Global after sales and service support network
The X-VDR operates on a newly developed playback suite that enables full voyage analysis and data replay functions. AMI's in-house design team has built the software with the user in mind, making analysis fast, simple and effective when in operation.
PACKED WEIGHTS & DIMENSIONS
Multiple boxes – Box 1 = 24.1kg – 61 x 61 x 33cm Box 2 = 16.4kg – 55 x 45 x 47cm Box 3 = 13.7kg – 31 x 25 x 26cm Box 4 = 20.1kg – 59 x 39 x 48cm Box 5 = 2.9kg – 31 x 25 x 26cm
ITEM MEASUREMENTS
For individual component weights and dimensions please see datasheet