Açıklama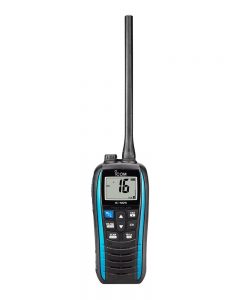 Floating Warning Light
Its impressive design makes it easy to find the IC-M25EURO with red LED warning light when it falls into the water at night or day. The warning light comes on when your radio is turned off even if it is turned off.
11 Hours Battery Life
1500 mAh internal Lithium-Ion battery with approx.
550mW Audio Output
The IC-M25Euro provides a powerful 550mW sound output to make the sounds heard understandable and audible.
Optional Speaker Microphone, HM-123
Thanks to the optional waterproof speaker-microphone, you can use the radio attached to your waist. IC-M25EURO marine radio can float together with HM-123
Large LCD Display
According to the previous model IC-M23, the LCD screen of the IC-M25Euro is 30% larger. This allows channel numbers and status icons to appear more clearly.
USB Charge!
The IC-M23Euro can be charged with the standard USB connector (Micro-B type). The cigarette lighter adapter or smartphone chargers can be used to charge the IC-M25Euro.
Other Features
IPX7 standards in the following proof design. (30 minutes at a depth of 1 meter)
Dual / Tri Watch featured
Auto-scan feature
Direct access to Kanal 16
4-stage battery status indicator
Favorite channel and tagged browsing feature
LCD and keypad backlit
Aquaquake water release
Frequency Band TX 156.000–161.450MHz – RX 156.000–163.425MHz
All international sea channels.
Operating Temperature Range -15 ° C to + 55 ° C
Dimensions 56.6 × 134.2 × 30.5 mm
Weight 220g (with battery, antenna and belt clip)
RF Output Power 5W / 1W (approx)